Monday 29.11.2021 | 22:00 o'clock
Matrix - Party Every Night
Welcome to a world of seriously good club sounds. This is SCANDAL!
On Mondays, it's all about secrets, seduction, discovery and conquests. At the Matrix Club Berlin, everything is possible! We invite you to join our incredible DJs and enjoy some tantalizing sounds guaranteed to get you in a sexy mood. At the bar, there are no regrets, on the sofas everything remains a secret, on the dance floor you can be who ever you want.
minimum age for admission 18 years, valid passport or ID card required
---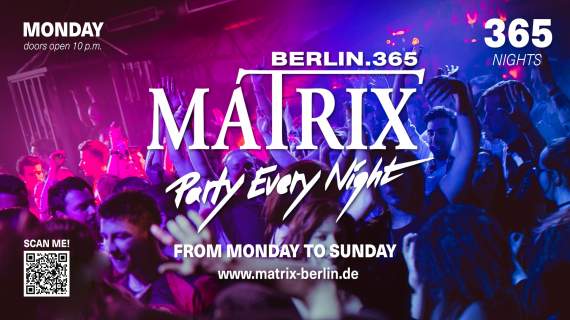 ---
DJs:
DJ Van Tell • Hip Hop • house • reggaeton • top40
Reservation
Cookie and Privacy Policy
We use cookies to make our website easier for you to use, to improve your browsing experience, to interact with you through social media, and to display relevant advertising messages tailored to your interests. In addition, we can use cookies to evaluate site visits. Please click on "Accept" to accept the cookies. You can find out more here.
Accept