Sunday 28.11.2021 | 22:00 o'clock
Matrix - Party Every Night
Attention! – A new week is coming; it's time to RELOAD!
At the Matrix, the weekend doesn't end till Monday morning, so Sunday nights are reserved for all hardcore party people ready to say hello to the new week by dancing all night long.
The dance floors are still warm as the sound system starts up again. Your chilled out Sunday ends now as the anticipation of what is to come runs through your body, and you give in to the fact you are totally addicted to BASS.
Follow the neon lights and your Sunday club night in the Matrix Club Berlin can begin!
minimum age for admission 18 years, valid passport or ID card required
---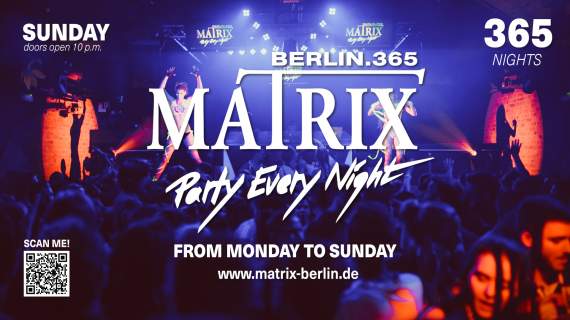 ---
DJs:
DJ Le Trace • electro • Hip Hop • house • reggaeton • Trap
Reservation
Cookie and Privacy Policy
We use cookies to make our website easier for you to use, to improve your browsing experience, to interact with you through social media, and to display relevant advertising messages tailored to your interests. In addition, we can use cookies to evaluate site visits. Please click on "Accept" to accept the cookies. You can find out more here.
Accept