Friday 20.05.2022 | 22:00 o'clock
Matrix - Friday
GENERATION WILD – Let the crazy in you out at this wild party where anything goes.
Are you a party animal? Can you dance all night? Then Generation Wild at Matrix Club Berlin is the perfect night for you. On Friday nights, this explosive evening has no limits; it is 'the' collective demolition party, ready to detonate your party weekend wide open.
One continuous party night where you can meet other like-minded party animals and dance till after sunrise, if you can.
minimum age for admission 18 years, valid passport or ID card required
---
all time favourites • hip-hop • house • reggaeton • r´n´b • top40 • Trap • deephouse • electro • progressiv • techno • Bachata • Merengue

Entrance: 10.00 Euro

10€ Free Drinks for Ladies till 11 pm!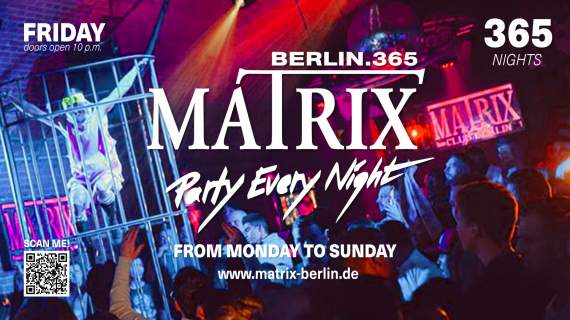 ---
Floors:
M-Lounge

Studio Floor

Mainhall

Latin Room
DJs:
DJ KRS.AGE (fritz radio / disco inferno) • all time favourites

DJ SIZE (Blactronic Records) • hip-hop • house • reggaeton • r´n´b • top40 • Trap

DJ Bionic (smoosy house / gloria game boyz) • deephouse • electro • house • progressiv • techno

Dj Nic-Tunez • Bachata • Merengue • reggaeton • Trap
Reservation
Cookie and Privacy Policy
We use cookies to make our website easier for you to use, to improve your browsing experience, to interact with you through social media, and to display relevant advertising messages tailored to your interests. In addition, we can use cookies to evaluate site visits. Please click on "Accept" to accept the cookies. You can find out more here.
Accept