Saturday 18.05.2019 | 22:00 o'clock
BERL.INSANE
Will you survive the heat of Berlin's hottest club night?
BERL.INSANE is not for the faint hearted. The Matrix Club Berlin vaults turn Saturdays into a wild night of bedlam with high class DJ's and musical delights. Alongside musical delights the explosive atmosphere at the Matrix also has some visual treats with Berlin's sexiest go-go dancers to make the evening a truly unforgettable experience.
Leave your prescription at the door BERL.INSANE clubbers, and come in to get your extra dose on endorphins.
minimum age for admission 18 years, valid passport or ID card required
---
dancehall • hip-hop • r´n´b • selected house • house • top40 • all time favourites

Entrance: 8.00 Euro

Ladies get free Admission until 11pm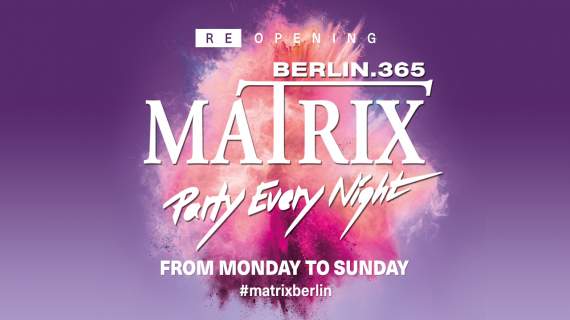 ---
Floors:
Mainhall

M-Lounge

Clubfloor
DJs:
Deejay ZISSA (matrix) • dancehall • hip-hop • r´n´b • selected house

DJ Crazy Cutz (planet radio.ffm / black fusion) • hip-hop • house • r´n´b • top40

DJ EM-TEE (matrix) • all time favourites
Specials:
Matrix Dance Crew

support on MIC by: MC Caramel (isle of MTV / neonsplash)
Reservation
Datenschutzerklärung und Cookie-Richtlinie
Wir setzen Cookies ein um unsere Website für euch einfacher nutzbar zu machen, eure Browsererfahrung zu verbessern, um mit euch über Social Media zu interagieren und um relevante Werbebotschaften zu zeigen, die auf eure Interessen zugeschnitten sind. Außerdem können wir mithilfe der Cookies die Seitenbesuche auswerten. Klickt bitte auf "Akzeptieren", um die Cookies zu akzeptieren. Mehr erfahren könnt ihr hier.
Accept